A workshop employee severed a finger and deeply lacerated a thumb after his gloves became entangled in a radial drill at a UK workplace.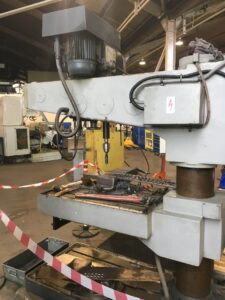 According to information released by the UK work safety regulator, the company received a £100K (AUD $175K) fine for failing to manage the risks with the radial drill and inform employees not to wear gloves when using the radial drill.
The company received two improvement notices following the incident for failing to provide employees with appropriate training on the use of the radial arm drill and failing to carry out a suitable and sufficient risk assessment of the drill.
Speaking after the court hearing where the company was fined, HSE inspector Kim Ross commented: "This incident could so easily have been avoided by simply carrying out the correct control measures and safe working practices.
"Companies should be aware that HSE will not hesitate to take appropriate enforcement action against those that fall below the required standards."
Worker severe finger while using core drill
Incident | Serious thumb injury
Tips for safe use of a radial drill
Locate and ensure you are familiar with all machine operations and controls including functioning guards.
Ensure the chuck key (if used) has been removed from the drill chuck.
Follow correct clamping procedures to ensure work is secure.
Erect a barricade if the job obstructs the walkway.
Adjust the spindle speed to suit drill or cutter diameter.
Operational checks when using a radial drill
Before making adjustments or before cleaning swarf accumulations, switch off and bring the machine to a complete standstill.
Feed downwards at a sufficient rate to keep the drill cutting.
Feed with care as the drill breaks through the underside of the work.
Use a safe working posture.
Radial drills have resulted in a range of accidents in workshops. You can watch the radial drill safety video below.
Read more Mining Safety News